As those who know me best would say (particularly my Mom!), there is nothing that gives me greater satisfaction than developing the talents of young musicians. I love teaching piano and although most of the students that I teach will obviously not enter the professional realm of the concert pianist, I joy in opening the minds and hearts of children and youth to the beauty, depth, challenges and life changing possibilities encountered with the study and deciphering of the layers found in the great works of our Master Composers. Having the rare opportunity and privilege to work with and mentor young musicians of the highest level of talent is a true calling for me and one that I am most grateful that Picosa has embraced with our Breaking Ground program.
Picosa cellist Chris Ferrer and I are on faculty at New Music School in Chicago, and this past June we had the wonderful opportunity to work with and mentor the brilliant 13 year old New Music School student violinist Clarissa Bevilacqua which culminated in an all Beethoven program presented in at PianoForte Chicago. I feel I can speak for both Chris and me here by saying that this partnership (we call ourselves the Petrarcha Trio) was truly cathartic for us and an experience where we probably learned as much (or more) about musicianship and the personal responsibilities involved in high level music making as Clarissa. Clarissa is honestly one of the most professionally savvy musicians I have ever worked with and quotes like "one of my coaches said once that if you don't have a pencil in rehearsal, no career…" forced both Chris and I to evaluate exactly what we were going to bring to this musical relationship (including pencils). The three of us thrived on the detailed examination of our scores during our many rehearsals, and I can say with certainty that this concert experience was a great success as the journey of preparation brought positive evolution to ALL of our playing. The audio recording of our Ghost Trio performance can be found on our Picosa website, and the Petrarcha Trio will reprise this performance in June 2015 as part of our Picosa series at PianoForte Chicago and Mayslake Peabody Estate in Oak Brook. Clarissa and her family moved to Italy in July, and I am honored and deeply grateful that she will return to participate in our Breaking Ground program.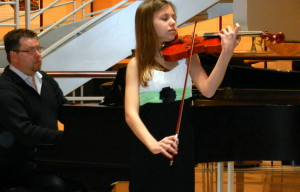 June 2014 was also the beginning of Picosa's musical working relationship. Prior to our initial June rehearsals an immense amount of organization in preparation for our actual music making occurred; website and social media was developed, an extremely detailed business plan was developed, repertoire was planned, venues secured, we won a Residency at North Central College and also were accepted to perform at the National Flute Association Conference in Chicago in August 2014. We partnered with 4 great Chicago composers (Shulamit Ran, Jonathon Kirk, Augusta Read Thomas and Shawn Okpebholo) to present their works on our 2014-2015 series at PianoForte Chicago and Mayslake Peabody Estate venues. SO, we had a clear performance path and fabulous goals ahead of us but … we never met as a quintet for rehearsals prior to June. WE were breaking ground.
For those who have never had the opportunity to play chamber music, it is a relationship very much in dimension to the "family structure." Intimate, complex, fun, deep and exposed emotionally – so the idea of five accomplished musicians with strong ideas melding together as one unit on a plethora of fronts is a daunting and rewarding challenge. Our first performances as Picosa at the National Flute Association were a success, and we were greatly honored to have Shulamit Ran present during our reading of her stunning work Mirage. Thankfully Ms. Ran was pleased with our work (huge sigh of relief), and I am greatly looking forward to coaching Mirage with her in October. So now I can happily say for Picosa, so far so VERY good.   We are still learning how to work with each other as well as relate as colleagues and friends. We ARE breaking ground now.
~ Jeff Panko