Well, we have one concert performance under our belt!  Last Monday was so much fun, and went by extremely quickly.  We couldn't have asked for a better crowd or a better venue for our inaugural concert!  The live stream by PianoForte Studios was completely amazing! Thank you Thomas and Victor for your hard work!!!  I received several emails and texts after the concert from people telling me how much they enjoyed watching the live stream.  All of our PianoForte Concerts will be live on youtube !  You are never too far away to stay connected with Picosa!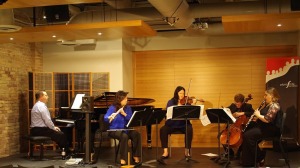 Mirage, of course, was our signature piece for this concert.  Shulamit Ran is such a meticulously brilliant composer.  We thoroughly enjoyed taking apart Mirage and figuring out how it all worked together.  We were also very fortunate that Ms. Ran took the time to coach us on the work as well.  I always think it is so special to be able to have time with the composer of any piece, and this was no exception.  She gave us the suggestions we needed to bring the piece to a new level.
If you haven't seen it yet, here's the video of Mirage from our concert Monday October 27th.
Ms. Ran was in attendance at the concert on Monday and she said a few words to the audience about Mirage and Picosa!  I am greatly looking forward to continuing our relationship with such an inspirational person and composer!
"I was absolutely thrilled to be present as Picosa featured my work Mirage as the signature piece in their inaugural concert at Pianoforte Chicago.  In the short time that I have come to know Picosa, I have been very impressed with the passion and commitment they bring to the entire endeavor, both musically and in terms of community engagement.


One of the things I appreciate especially about Picosa is the fact that they bring together the old and the new in their programs, playing works that belong in the standard and new repertoires. The way I see it, being mindful of the old brings depth to the new, and the new helps make the old more engaging and fresh.  One style reflects on the other, bringing beauty and richness to all.  Best of luck, keep it up!"  –Shulamit Ran
It is hard to believe that in just TWO DAYS we have the opportunity to perform everything again!  The Mayslake Peabody Estate is just breathtaking.  The room we perform in is complete with beautiful stone walls and stained glass windows.
Also, don't forget that we'll be accepting donations for Hesed House!  You will receive $5 off a full price ticket for either a monetary donation or bringing items from their list.
We hope to see you on Wednesday!  Tickets are still available through EventBrite.  Also, please note that student tickets are $10!
As our fantastic pianist Jeff would say "toodles"!
~Andrea