There is little that we do as professional musicians that is more exciting than encouraging the rising generation of new musicians and audience members.  With this passion in mind, Picosa established the Breaking Ground artists program.  We are thrilled to present exceptional young musicians to join us in performance.  These performers represent the crème-de-la-crème of the next generation.  To submit a recommendation for our 2015-16 season, please contact Jennie Brown at PicosaMusic@gmail.com.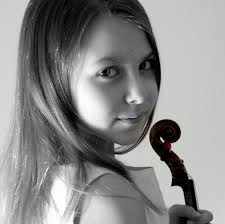 Our 2014-15 Season Breaking Ground Artist was thirteen year-old violin sensation Clarissa Bevilacqua. Clarissa recently received first prize in the European Music Competition in Italy.  She started playing the violin at age five and gave her first solo recital at age ten.  As a Sony Classical Talent Scout prize winner, Clarissa can be heard on a Sony CD with other winners.  She has appeared on Live from WFMT Chicago and has performed at Symphony Center and at many fundraising and cultural events.  She was invited to perform as a soloist at the 2011 Chicago mayoral inauguration ceremony at the Pritzker Pavilion in Millennium Park, and at the NATO Summit Chicago 2012 event.  Clarissa currently studies violin with Dr. Olga Kaler, Professor at DePaul University School of Music, and chamber music with David Taylor, New Music School Violin Faculty and Chicago Symphony Orchestra Assistant Concertmaster.
Clarissa founded the initiative Music Can Make a Difference to promote awareness of the life-changing impact music can have. Through this initiative she is committed to being actively involved in helping others in the community. When she is not busy with her violin, Clarissa loves to write. She has recently published a children's book, "Do You Really Know Your ABCs?" and is currently writing a teen mystery novel.